We Are Growing!
WebSpigot's owner, Creston Parker, is happy to announce Jesse Weber as the company's new President to work with clients and oversee the company's projects. Owner, Creston Parker, will now focus his attention on obtaining new clients and marketing.
About Jesse Weber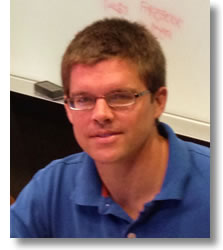 As a graduate in Management of Information Systems (MIS) I saw early on in my life the impact that computers, and the internet more specifically, would have on the business world. During my studies it was evident that online marketing would change the game for small businesses. After eight years as a project manager and three years building dynamic websites I bring to WebSpigot the desire to make small business' use of the internet as productive as possible. More specifically my passion is creating websites that draw in customers by simplicity and ease of use. Your customer's first chance at obtaining real information about you, your services, your products are through your website. My focus is to make sure visitors are directed through your site in an appealing, informative and time sensitive manner. My top priority is ensuring your happiness with the product WebSpigot provides you. I look forward to working with you on current and future projects.
Jesse Weber
President
WebSpigot
jesse@WebSpigot.com
direct line: 770-639-2579
---

Now is the perfect time to update your website and get to know Jesse. Give him a call or send him an email to introducing yourself.
Questions to Ask to Know When it's Time to Update Your Website:

How often do your clients or customers visit your website?
Is there something fresh to see each time they visit?
Are there any specials that change to make them want to come back?

Do specials have an expiration date to actually make them special?

With changing technologies, are all of your contact info items up to date?

Are there images on your website that are less than professional?

Call WebSpigot to get your updates rolling.

Best regards from Creston Parker and Jesse Weber
WebSpigot.com